By Reach Brands
It's not just the sassy Sex & The City wannabes and eligible bachelors who aren't settling down yet that shore-up the singledom trend. Some of us aren't settling down at all – the number of people getting married has fallen to its lowest level since records began in 1862.
Add to that old people are living longer (often widowed) and the growing number of divorcees in this country, and you have yourself a trend toward singledom – people living by themselves.
Summary
Of course!
The supermarkets simply respond with their ever increasing array of meals for one – not only different ranges but also different formats. For example Sainsbury's own label Tikka Masala Ready Meal for One comes in a traditional tray with peelable cellophane and an Innocent Veg Pot style tub which comes in a pot.
Surprising?!
Heinz Beanz – not a brand known for their product innovation, or being on-trend, yet their new formats really seem to have responded to some consumer insight. They are single friendly: their fridge pack is good value, resealable and will last in the fridge for at least 5 days. Also, Heinz's SNAP POTS shown below are a perfect size for one.
Scratch Meals, originally launched in 2009 on stalls and office deliveries, offer a scratch cooking experience without the wasted left-over ingredients or excessive fuss which (understandably) seems a bit pointless to the singleton.
Opportunities?
Opportunities to cash in on the singledom trend are anywhere that you can offer:
portion control
cash flow (little often)
reduce food wastage
deliver health and nutrition without the fuss
For example could Uncle Ben's Express Rice develop a resealable, split or individual portion pack?
Frozen and packaged fruit and veg could become more innovative and appealing in positioning for the singledom trend (Birds Eye Steam fresh veg makes a good start).
The supermarkets may be stealing away with the 'meal for one market' but there is room for more brands like Scratch (mentioned above) with stronger, more insightful product and brand positioning.
What to ask
What should you be asking yourselves and your consumers if you are thinking of embracing the singledom trend within your brands' NPD or repositioning? Here are a selection of questions inspired by three launches that are working this trend:
New Covent Garden Food Co: 99 calories individual portions
Do singletons consume half and save the rest, or just eat the lot? Is the rest often wasted? Is this seen as a real problem?
Why do singletons buy our product? Is it because of nutrition, low calories or convenience?
Would the increase in packaging of an individual portion frustrate a significant number of our consumers?
If so, is there a solution that doesn't negatively impact on our brand – e.g. make the existing pack resealable?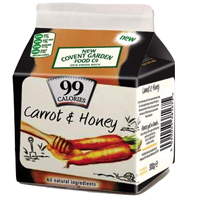 Options: Original and Indulgence hot chocolate sachets
Is it about a blatant 'for one' communication e.g. 'single portion' or is it about more emotional story telling that engages single targets? E.g. "…the dreamy caramel dessert was divine and the kiss that followed…" on the sachet shown below.
Which emotional positioning is more compelling to singletons? Luxury, comfort and indulgence or controlled fun? Can you do both within the same brand?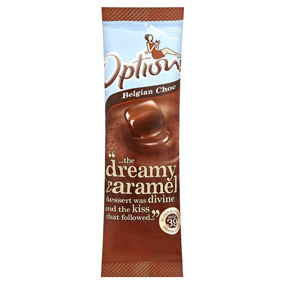 Which singleton solutions solve other consumer needs at the same time? E.g. no fiddle tin-opening, lighter to carry home, easier to store?
If our brand is traditionally about family values, will it sit comfortably as we try to commandeer the singleton market?
If we focus on a structural solution, does the benefit speak for itself or do we need a stronger communication?
Will the format change maintain credibility and appetite appeal?