Riding the wave. Helping a family business give their innovative product the key trend high ground.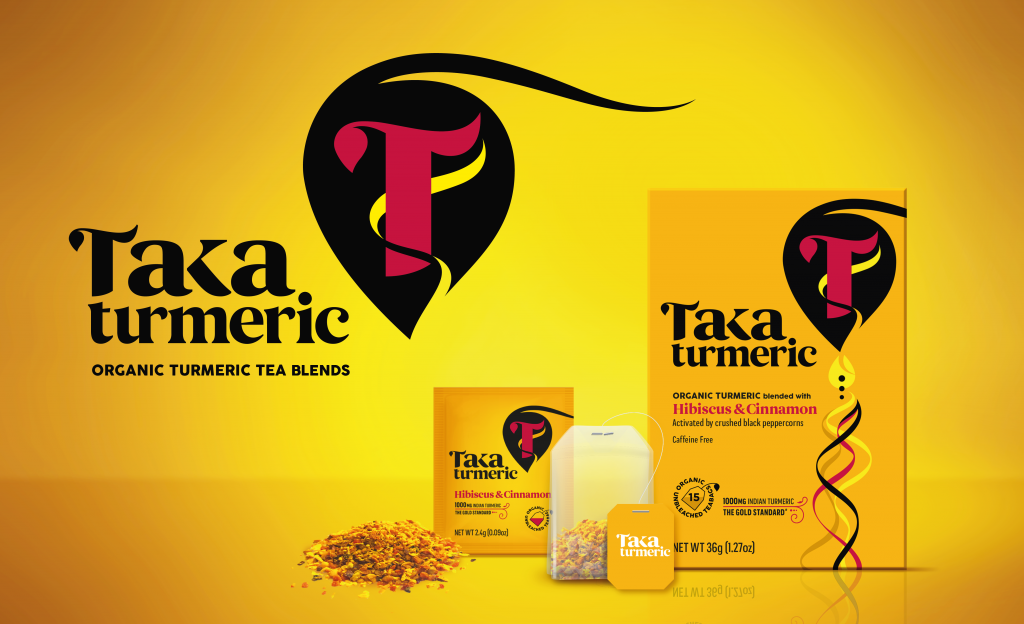 Project Summary
Taka Turmeric is a small family tea business with a big vision. The brand was created in Cape Town, and the family wanted to establish it in the UK market. With interest in turmeric soaring right now, Taka Turmeric is a product whose time to shine has come. Reach have rebranded the product for a UK audience, and given the team advice to help them take the product and business to the next level.
The Backstory
Mother and daughter team Karen and Talia, together with by Talia's partner Graham make up the Taka Turmeric team.
Karen is a qualified nurse and massage therapist, specializing in pain relief. She discovered turmeric while studying Ayurveda under Dr Rajen Cooppan, nicknamed "The Deepak Chopra" of South Africa. Over the past 20 years Karen had been giving Turmeric Root Powder to her clients, family, friends and pets to consume on a regular basis.
As most people didn't like the taste of turmeric on its own, this led to the quest to find the perfect recipe and so Taka Turmeric tea was born. Along the way they discovered the power turmeric has once activated with the right ingredients to help many health issues, in particular joints, and even cancer.
It quickly found a market in whole food stores in South Africa and Australia, and the team had already planted a tentative toe in the UK. But the standard of their packaging wasn't good enough. Furthermore, they felt that the time was right to invest in the brand to take advantage of the enormously positive PR turmeric is getting. It's one of the key trends.
Like most entrepreneurial companies in their early years of growth – they needed a lean and economical route to market. Graham found Reach through our blogs, and got in touch to ask for help.
The Challenge
Interest in the natural anti-inflammatory health benefits of turmeric is soaring.  From pain relief to lowering the risk of heart disease to helping the body fight against cancer, it seems turmeric can help. So the time seems right for a mainstream turmeric tea. Taka saw the opportunity to bring their much loved South African product to UK shelves. However while the product was right, the brand packaging was wrong. Taka Tea looked too homespun – great for whole food stores, but not strong enough to hold its own in the competitive herbal tea market against the big brands like Pukka.  As a relatively young business, marketing spend was limited. Cost was high on their minds, as this was their first investment in professional design and branding. The family team also wanted to work with a team that would care about their product, and guide them through the process
How the project worked
After a scoping and briefing meeting with Caroline Hagen and one of Reach's Design Directors, Sophie Brown, Sophie came up with three initial brand platform concepts that helped Graham and Talia decide where the focus of their brand should be.
The chosen concept captures the elegance of traditional Indian culture that reflects the special relationship Taka have with their Indian turmeric growers. It also creates an incredibly impactful and ownable brand mark that represents the magical elixir Taka Turmeric tea is once their turmeric is carefully blended with other natural ingredients and activated with black pepper.
Sophie was then able to focus her creativity in one strategic area that inspired her to come up with the new design for  Taka Turmeric's new tea packaging.
It's quite tricky because we've never experienced this before, having the three concepts put in front of us. There was one that really stood out to us and everyone preferred in the end. It was quite nice because they told us about each of the concepts and then naturally we came to the decision which I think was their favourite as well, which was good.
Taka Teas has also been working with Reach Accelerator to help them with their business plan.
It's a very good package. We've been doing this business for a couple of years and it's very important to have expertise in the business field. You can have an amazing product but you do need to know how to sell it and have a strategy for selling it and a sound business plan.
Outcome
They're very professional, approachable, they care. It's a genuine feeling that they do care and that they want to make a difference.

They appreciate what we're trying to do and achieve as a business. They obviously know what they're doing. They made us feel very comfortable. They listen to what we say and they have great ideas.

It's also good because each of them has their own personality and their own ideas and it's good to have the different ideas going around from everyone.
Taka Takeaway – Learning for brand pioneers
When you are first to market you can afford to take the generic visual highground. From the start we wanted to own the deep golden colour that instantly evokes turmeric in consumer minds. So rather than wanting to come up with a specific colour the brand could own (which would be the usual approach – think purple and Cadburys or red/green and PG Tips) we used yellow so that Taka will come to represent turmeric in consumers' minds.