By Caroline Hagen
Want to take your packaging to the next level? Then you need to be aware of 2017's packaging trends…
Reach's Rachelle Corker loves to keep an eye out for the next big thing when it comes to design innovation. Whether it's packs that talk back or category chameleons, one thing's for sure – 2017 looks set to be anything but dull.
Trend alert #1 – Packaging perfected for the virtual world
According to Mintel's Global Packaging Trends report, in 10 years' time, three-quarters of UK shoppers expect to do most of their shopping online. That's big news in the world of branding and packaging. Though on-shelf stand-out will always matter, as sales in physical stores dwindle other factors come to the fore. Now savvy brands are considering:
How well will products ship?

How will they look and work in the home?

Do they work in the virtual retail environment?
A great example of this is in action is Nutpods drinks. We rate this clever design for 3 reasons:
Simple and elegant design works well in the digital space.

Structural packaging is robust and unbreakable – its compact shape ships easily and can handle fluctuating temperatures so the product arrives in the best possible condition.

Messaging is clear and eye-catching on-shelf, too.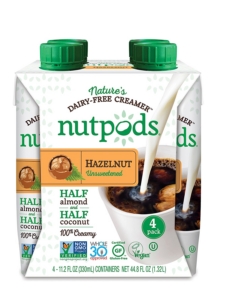 Trend alert #2 – The packs that talk back
Over in the US, Mintel found that a whopping 50% of customers are interested in scanning packaging to learn more about the product's provenance. Though the trend may not be quite so high on this side of the pond (QR codes never really gained that much traction), it's certainly food for thought.
Rather than relying on interactivity through smartphones, we think the pack that talks back directly is a particularly exciting prospect. Coors started the thermochromic (temperature-related colour changing) trend back in 2009, and now there are many active, 'intelligent' packaging designs including:
Drinks that tell you when they're at perfect drinking-temperature.

Packaging that can tell you if a product is authentic.

Labels that tell you when your food is past its best.
We particularly love Insignia's colour-changing labels – such an innovative way to keep consumers safe.
Trend alert #3 – Classical, timeless beauty
In the age of mass-produced and homogenised products, strong pack design still plays a vital role in engaging consumers and getting them to pick your product over others. A beautiful (or memorable) pack catches eyes in the first place, sticks in your customer's mind, enhances their experience of your product, and builds on brand values, in turn motivating repeat purchase.
Keats, Mary Poppins and common sense concur… "a thing of beauty is a joy forever". And it's a sentiment backed up by solid research: according to Mintel 52% of US shoppers are drawn to packaging with unusual or eye-catching designs.
It's not new news, but Coke's gift ribbon is a classic example of how something unusual can really capture the consumer's imagination, whilst supporting Coke's brand values of 'happiness' and 'sharing'.
Trend alert #4 – Lavishing love far beyond the label
We expect to see a lot more structurally considered packaging in 2017. This is a packaging trend that's been growing for some time, with consumers plumping for functionally clever, user-friendly, aesthetically pleasing options. In reality, that means:
Packaging creates and protects your brand equity.

Unique structures help to differentiate you from the competition on-shelf.

User-friendly pack formats create a strong link between brand, product and consumers' lives.
Method's laundry detergent is a great example of form and function coming together in a beautifully branded package. We like:
A clever concentrated formula and ergonomic shape that makes it easier to handle compared to bulkier category pack formats.

A stunning design that structurally and visually disrupts the category – by choosing an interesting shape, clear packaging and beautiful liquid colours that shine through where opaque pack formats dominate.
The result is something that makes you smile at purchase, and feel inclined to show off, rather than hide in the cupboard!
Trend alert #5 – The category chameleons
Another top packaging trend for 2017 is using consumer familiarity and loyalty to extend a product portfolio well beyond its traditional categories.
We all know that the development and exploitation of unique and functional packaging decorated with clear, on-pack messaging can be a primary motivator to purchase. So bring these two things together and you have a winning recipe.
After all, consumer trust can have as much influence as 94% (Mintel) when reacting to new product launches – so why not make the most of your brand assets and become a category chameleon!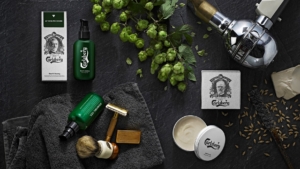 Carlsberg Beer Beauty plays this card to great effect, expanding to create a premium hair (and beard) care range. By understanding that men want masculine grooming products, Carlsberg used the beautifying properties of its beer's main ingredients as well as their strong brand and packaging identity to create a winning, category-breaking product.
So that's our packaging trend predictions for 2017 covered, but what if you've got a brilliant product and not a clue where to start when it comes to developing a brand?
Take a look at Caroline's 2-minute takeaway this month: Help! I've got a great product – but I haven't got a brand