By Reach Brands
Technology is moving fast. So fast that we can now print 3D objects, scan retinas and grow human organs. But why are we still struggling to find an answer for household waste?
Is it just me or have supermarkets stopped banging on about reducing waste? Actually the last thing I read was that they had passed the baton to the manufacturer. Some of which have risen to the challenge like PepsiCo's 100% recycled PET bottle and Nampak's re-engineering of the standard milk carton that's reduced plastic by 10%. But is this really helping or is it just making us fill land less quickly? Somehow reducing waste seems a long way from eliminating waste altogether.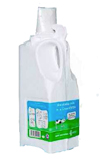 So how can we start to eliminate the problem? Some amazing things have been happening – look at this bio-degradable milk carton designed by Greenbottle, for example. This bottle is made of a recycled cardboard outer shell and a biodegradeable plastic inner liner made from cornstarch. When the bottle is empty, the outer layer can be recycled and the inner liner will fully decompose within six weeks.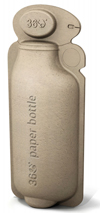 Or what about this ground breaking 360 paper water bottle that's totally recyclable and made out of 100% renewable resources – amazing!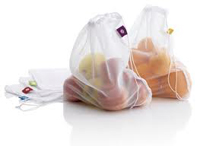 Educating consumers into re-using waste has worked to a degree, particularly with carrier bags, and more recently with the introduction of a fabric drawstring washable produce bag.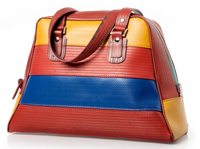 But is there more? Bringing packaging closer to the product is key here, or better still: make the packaging the product. Look at Elvis and Kresse who identified a use for waste fire hoses.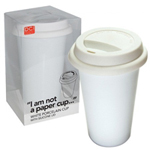 Or Mocha's playful ceramic replica of the wasteful paper cup. The iconic design can be enjoyed by all – time and time again. A definite two fingers-up to paper waste!
This principle has been adopted for brands like Ella's Kitchen and Aquafresh who have started to move to an upcycling system with the TerraCycle scheme, which makes branded goods from used packs. Can you imagine what these ranges could look like with a good fashion designer behind them?
So how can we do more? Innovation should concentrate on the principles of packaging and the brand/product link. Imagine a world where a delicious chocolate brand has edible packaging that's equally as scrumptious as the chocolate itself. Or a fragrance brand with packaging that disintegrates leaving its characteristically delicious smell behind as a lingering reminder. What about a washing up liquid where the last wash is done by the actual packaging itself as it disintegrates into a soapy lather? This would put a smile on the consumer's face as there would be less bulk in their dustbin bags.
It seems that the technology is out there, but where the bottom line still rules, investment in greener options will be incremental. And it's likely to be adopted by lifestyle brands rather than the big boys who are still working on reducing waste, rather than truly eliminating it. They could also be missing the opportunity of using waste reduction to build brand equity.
By Zoe Tuttle, Strategist at Reach
Contact Zoe