By Reach Brands
Some would suggest that rather than retail ruin we are in a period of renaissance.
Clever retailers are realising that real world experiences are as important as virtual ones. These two combined can make for a heightened experience. We constantly seek status and there's nothing quite like the status fix you get from a bit of retail therapy. And we've got the figures to prove it.
In 2010, according to Google, 51% of consumers researched online, but purchased in-store – this suggests that retail is alive and well. The need for an in-store experience suggests that consumers still want to interact – they want to touch and feel things – but this is something e-commerce cannot give them. Therefore retail outlets are changing by turning into experience emporiums – just take a look at Apple and Nike!
Understanding 'experience' takes getting to know and pre-empting what consumers want. A great example is Canon which allows consumers to access real-time online consumer reviews on products. It also allows them to identify stock levels and store locations before ordering products. Tesco's launch of the Korean subway store 'Home plus' demonstrates real consumer insight – it served to fill potential idle time with something meaningful, by enabling a grocery shop. To do this, without requiring massive capital investment in physical space, is inspiring! Singapore-based mobile operator Sing Tel launched their flagship store in Singapore's Comcentre in July 2011. The store's exterior glass walls have embedded interactive digital touch screens, meaning the store is effectively open 24/7.
Despite all of this, some would say that grocery is becoming more about 'click and collect' and less about interacting, which has obvious implications on brands. A case in point is the basic internet shop and some promotional approaches are doing little to channel emotion in the right way. The US Groupon deal between Ben & Jerry's and Walmart is a good example. Purchasers could redeem a voucher on groupon.com for Ben & Jerry's products in Walmart. This probably did more to create involvement between the consumer and Groupon first and foremost, then Walmart, and lastly Ben & Jerry's – not the most efficient way to build emotion. So how can grocery brands help to move away from more robotic behaviours into generating meaningful interactions that link squarely to their brands?
Understanding the consumer journey will help brand owners to improve their innovation process. Cadbury has used their on-off line approach using 'Quick Response'* (QR) technology on-pack. It allows consumers to interact by scanning and playing the Qwak Smack game. Others that have used the same technology are Wilkinson Sword with their Hydro range of razors, where QR was used to send information and offers directly to the consumers' handsets. Additionally, Kellogg's used it to target consumers of the Crunchy Nut brand with their 'it's morning somewhere' campaign.
To heighten experiences, innovation needs to make the link between brand interactions and acknowledge the full range of human senses. Insights into consumers' experiences and interactions with your brand at every touch point are critical, especially in the retail environment and purchase decision making process.
* QR or Quick Response code is a two-dimensional barcode. These are often used for adding web links to a printed page. When you scan such a QR bar code using a web cam or mobile phone camera, the QR reader application takes you to a website, a YouTube video or some other web content. QR codes are an easy way to send people to a site without having to type a URL.
By Zoe Tuttle, Strategist at Reach
Contact Zoe
We all know how difficult innovation is to get right. So come and find out how to develop product ideas that require comparatively little up front investment and that are loved by consumers. This free half day workshop show will show you a different way to approach ideation, by revealing how you can look at your own marketplace with fresh eyes. We've analysed a large number of great quick win innovations found on supermarket shelves, to identify the key success factors. We'll share these findings with you, teach you how to spot quick win opportunities and gaps and give you the tools to really put some fuel into your NPD programme.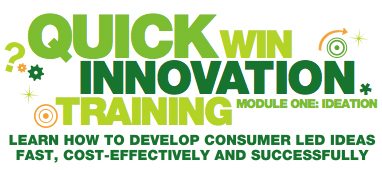 Our next workshop is now fully booked. However due to high demand we will continue to run this workshop. For more information or to join the waiting list please email Fraser Johnston.