By Reach Brands
Halloween seems to have grown in size and popularity. Scott Mills on his trendy Radio One show commented "Halloween was everywhere this year… everyone seemed to be asking each other 'what are you doing for Halloween?"
The research supports his theory. An article by Within PR revealed that only 30.7% of people under 19 didn't plan to go trick or treating this year and research by The Telegraph last year revealed that the size of Halloween parties is growing for people in their late teens and twenties, with parties of 60 people now becoming the norm.
Marketing Week predicted a 12.5% rise in the value of retail sales for Halloween products this year and according to Tesco, Halloween is now the third biggest event for the British high street, ahead of Mother's Day and St Valentine's day.
It's not just Halloween that is embraced by UK consumers:
Christmas also continues to rise: UK consumers will spend £680m more than they did last year;
Easter saw a 6.9% increase in sales this year; and
Valentine's Day generated £334m in sales in 2011.
So what do you need to think about if you're thinking of riding the trend toward embracing seasonal festivals?
What's going on out there?
Of course!
Confectionery categories are all over it… Everyone from the Natural Confectionery Co to Haribo and Cadbury has launched Halloween products. Vying for space on shelf against a growing sea of Christmas confectionery from the usual suspects, notwithstanding all the chocolate advent calenders…
Same goes for bakery… Spooky products were spotted from Mr Kipling and Tate & Lyle, not to mention own label offerings. And M&S have had their beautiful Christmas family biscuit tins and Christmas puddings on shelf for months.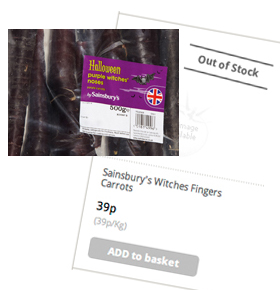 Surprising?!
Fresh veg – We are not just talking pumpkins having there moment! Sainsbury's positioned purple fresh veg as part of their Halloween offering this year: Purple potato wedges were packaged as "Witches' Hats" and purple carrots made for "Witches' Noses". Think this is going a bit far? They sold out…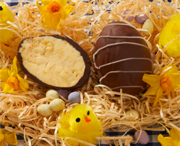 A small cheese company called Long Clawson, launched a chocolate Easter egg filled with cheese this year…
Opportunities?
By the way, the pet food category is expanding rapidly (with food for wheat intolerant dogs, small dogs, fat dogs, etc…). We think the Pet Food aisle is ripe for more seasonal product development. How about Valentine's treats for the man in your life – your Yorkshire Terrier Barny? Cuuuuute…..
Anything that involves an element of persuading kids to do things they don't like… Christmas list toilet paper? Halloween 'slime' toothpaste? Easter bunny shaped carrots?
Anything that may be displayed in your home – iconic 'pumpkin' biscuit tins? Romantic/sexy room fragrance candles for Valentine's Day? 'Christmassy' tea caddies? 'Easter' style egg boxes?
And things that capture the sentiment of the season – cheese lovers products for Valentine's day? Mother's Day cakes or wine products!? Explosive flavours of soup for Guy Fawkes Night?
What to ask?
What should you be asking yourselves and your consumers if you are thinking of embracing the seasonal trend within your organisation's NPD? Here are a selection of questions inspired by three brands that are working the seasonal trend:
Christmas Dinner Pot Noeldle
(two pence from each sale will go to buy phone time for British troops abroad)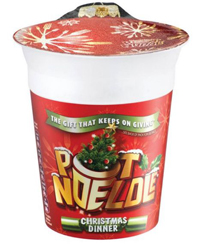 Will our consumers see it as cynical 'jumping on the band wagon' if we launch a seasonal product?
If so how do we counter that cynicism and make sure we capture the magic of the season? For example, can we position it as a charity product?
If we produce a charity Christmas product – which charitable cause would best resonate with our target consumer e.g. Blokey Blokes?
How explicitly Christmassy do we need to be so that consumers instantly 'get it'. I.e. do we need to go traditional red, green and gold?
Fanta's Halloween Pack Design
Is there a season that has a particularly good fit with our brand values i.e. 'young' 'fun' and tongue in cheek? And even our brand equities i.e. "orange"?
How do we approach this particular season in a way that still attracts our target consumer? E.g. can we do Halloween in a way that appeals to teens without being too kiddy?
Do we need to develop a new product or can we just do it through a limited edition pack design?
From Gold Bunny to Gold Reindeer and from Creme Egg to Screme Egg

What do we have in our portfolio that is iconic / sells really well for an existing festival?
How can we rework it for a different season or festival? For example could we follow the Lindt bunny with a Lindt reindeer for Christmas? Or 'Cadbury's Creme Egg' with a 'Screme Egg' for Halloween?